About the Artisan
Diane is a self-taught leather Artisan. A state-juried member of the League of NH Craftsmen, she has met the League's high craft making standards. Her mastery of the craft, heritage techniques, and workmanship earned her a spot 12 years in a row as one of the top craftsmen doing pre-Civil War heritage "museum quality" work, as judged by Early American Life magazine's panel of experts.
Diane has been featured on WMUR's New Hampshire Chronicle. She is one of the craftsmen featured in the 75th Anniversary documentary about the League of New Hampshire Craftsmen, "A League of Our Own."
Diane is listed on the New Hampshire
State Council on the Arts website,
in the "Traditional Arts" section.
Diane's interest in making leather crafts evolved from her love of horses and antiques. She used leather chaps, straps, and bridles when she used to train and ride horses. When her leather chaps became worn, she decided to make a new pair using an old sewing machine. Soon she was making and repairing chaps for other horse riders. Diane then studied how other leather items, such as leather bottles and fire buckets, were made, and started to expand her skills. During her antiquing expeditions, she collected vintage and antique leathermaking tools that she now uses to handcraft leather items.
Diane is fascinated by the history and longevity of antique items. She is proud of her background and family heritage. A Mayflower descendant, she is a member of the national societies of the Daughters of the American Revolution and the Daughters of Founders and Patriots of America. Her leather crafts epitomize her desire to create her own legacy.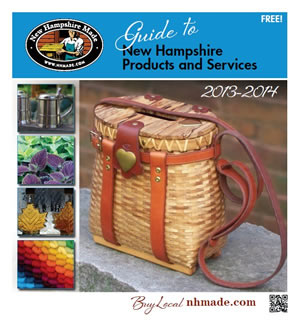 Click to learn more about Diane at www.nhmade.com.